Achieve More Every Single Day
Octopus is the Daily Planner and the ultimate goal-setting tracker for boosting productivity. It serves as your personal productivity wizard and daily organizer, helping you set and achieve your goals while providing the motivation you need to get things done. With Octopus Planner, you can build a smart life strategy, manage your time effectively, stay on top of your tasks, create to-do lists and checklists, track your habits, and even schedule online meetings in a calendar.
Day Planner
Become focused and organized with our daily planner and to-do lists.
Goal Setting
Start building your life goal strategy today with our goal setting wizard.
Habit Tracker
Track all your daily progress and build healthy habits in no time.
Moments Journal
Don't miss a moment. Take your self-care journal wherever you go.
Goal Discussions
Discuss your public goals and projects in smart and friendly circles.
Events & Calendar
Schedule the most important online and offline meetings in a calendar.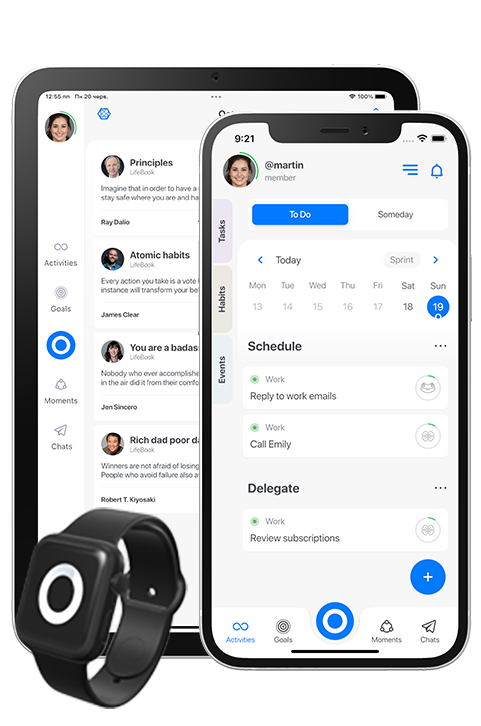 Organize Your Work & Life
8 smart tools to be productive
Progress is impossible without a clear direction. Octopus Planner & Goal Setting Tracker will help you explore your dreams and turn them into achievable life goals.
Prioritize and schedule your tasks to direct your focus effectively. Establish all your long-term Goals, incorporate necessary habits and routines. Streamline your daily tasks with the efficient workflow provided by Octopus Day Planner.
Don't wait! Make your dreams a reality!
Build Your Circles
Meet like-minded people, share your successes, and rise together as one conscious community.
What Clients Say
We update the Octopus app as often as possible to make it faster and more reliable for our customers. Love the app? Rate us or write a review!
Say! I like this one a lot! It integrates all the features of goal-setting (tasks, events, goals, habits) in a way that really helps me clarify what I'm about, instead of just taking up a lot of time.
Krissa
Lifetime Pro Version
Octopus had my attention right away with its clean interface but using it made me find its usefulness perfect for my personality. Very well done and thank you for helping to organize my life.
Robert
Lifetime Pro Version
This is an incredible app. I'm surprised it hasn't taken off yet, but I'm excited for where it's going. The developers have found a way to pack so many capabilities in a user-friendly simplicity.
It is an all-in-one! I already had a to do list app, a goal app and was looking for a scheduling app when I stumbled across Octopus. I love how I can schedule blocks of time and create other blocks.
Great app! I've been searching for the last couple of months to find a planner that actually looks as good as this one does and works well with my work-flow. Great tool that I use all day, every day.
After updating the app the features that wasn't there is now present make the app more enjoyable. Definitely recommend using to set up long term goals.
This app is very simple and amazing, and most importantly for me. It helps me to be more responsible in life.
This is a good app, very complete and simple, but for free user is very limited with lots of function this app have, is just for who want to buy Pro.
Fantastic Planner & Task Manager. I love the design and layout of the app. I can take notes, see my tasks, and see events on a calendar!
This is an excellent productivity tool with a lot of really great features, they've also nailed the UI, it looks very polished, you can tell a lot of work has gone into this.
Frequently Asked Questions
We work hard and extremely quickly to provide our customers with quality and productivity tools, so if you have some trouble, it is sad, but we will resolve this quickly. Just tell us about the issue :)
How can I unsubscribe from marketing emails?
If you would like to unsubscribe from Octopus marketing emails, you can change your marketing preferences via the unsubscribe link at the bottom of any marketing email or the in-app settings menu.
Having trouble with Octopus?
If you're having problems with Octopus, here are a few ways to solve common issues.
Whether you're having problems or experiencing a minor bug you just can't seem to shake, try logging out and then logging back in.
Clear your preferences in Octopus profile (Service Tab).
If you're still having trouble, try reinstalling the app completely.